Digitalized logistics solutions
Fascinating technology. Maximum efficiency. Kässbohrer invests in automated, digitalized logistics solutions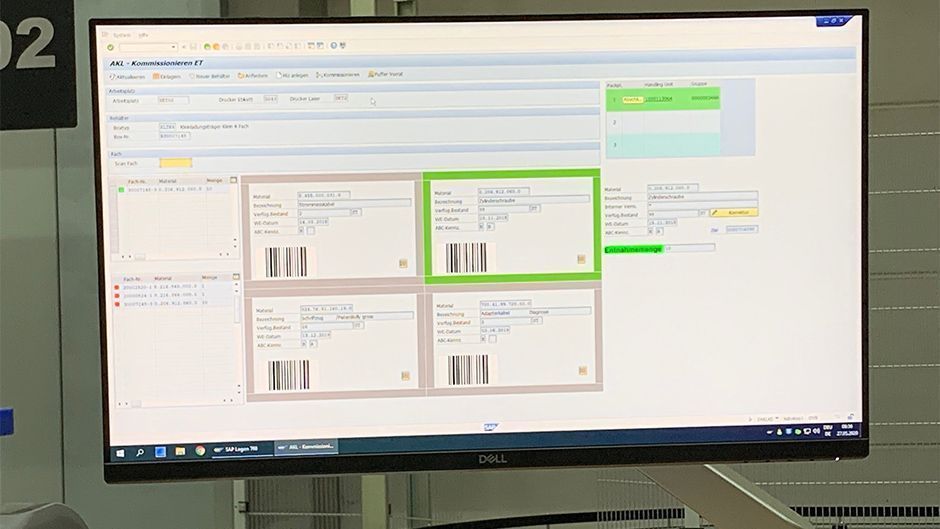 Series and spare parts have been coming off the production line of an automated small parts warehouse (AS/RS) at Kässbohrer Geländefahrzeug AG since the beginning of 2020. The fast system for the automatic storage and retrieval of parts in high-bay warehouses allows Kässbohrer to act very flexibly: Parts can still be diverted on the conveyor belt!
Immediately after their arrival at the logistics center, all packages are booked via a scanner in the form of a data glove and then transferred to the miniload. At the same time, the scanner records unknown parts for the system: This measures the items, weighs them and provides images of the items for the production and logistics information system at a later time. This also simplifies and speeds up customs clearance. When the articles are registered, the turnover rate is also specified in the form of an ABC classification - and the articles are placed in the miniload accordingly.
The Automated Small Parts Warehouse has approximately 15,000 storage locations. Two storage and retrieval machines transfer the boxes from the warehouse to the conveyor system. Up to 5,000 items are stored and retrieved daily. The warehouse logic is based on mobile storage bins. Each box has its own unique storage location - so the system finds the items much faster. If necessary, boxes can be diverted to a new workstation while still on the conveyor system, thus avoiding unnecessary storage. The First In - First Out principle was also implemented, i.e. items with the oldest goods receipt date and the oldest revision levels are retrieved first.
Now the automated small parts warehouse has been combined with an automated high-bay warehouse and an automated guided vehicle system. The new automated high-bay warehouse has 2,300 storage locations and 2 stacker cranes. The double-deep racking is designed to be 9 meters high and 45 meters long.
The driverless transport system transfers items from incoming goods directly to the high-bay warehouse for storage without the need for an employee to intervene.
Efficient and fast order picking
The conveyor system connects the storage bins to six ergonomically designed workstations running individually programmed SAP transactions. Two of the workstations are set up to handle incoming goods, but can also be used for spare parts shipping if needed, complementing the two workstations that are exclusively available for spare parts shipping. Two of the workstations are available exclusively for series production. Data gloves are also in use here.
The 6 existing Kardex Paternoster storage towers, which in the past stored classic small parts, have undergone a change of use: Now, special load carriers such as sheet metal and pipes are stored above them.
Intelligent technology for efficiency at the highest levelWith the numerous digital solutions implemented in the recent past, Kässbohrer Geländefahrzeug AG is a pioneer in the commercial vehicle industry.
And further projects, such as an expansion of automation in assembly, are already being planned - because the future begins today!