Groundbreaking: New PistenBully headquarters in Bolzano
Kässbohrer Italia GmbH celebrates the ground-breaking ceremony for its new headquarters in Bolzano.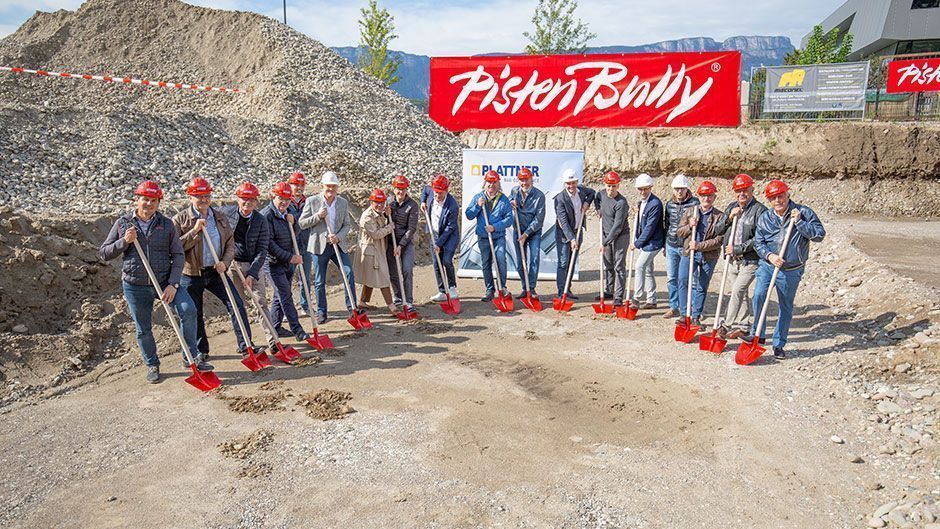 With this new building, Kässbohrer Italia GmbH is creating optimal conditions to remain the leading provider of service and sales of snow groomers in the future.
Kässbohrer Italia AG is an independent subsidiary of Kässbohrer Geländefahrzeug AG based in Laupheim, Germany. For over 25 years, the head office of the Italian subsidiary was located in Via Galilei, 32, right next to the A22 motorway. But it had been bursting at the seams for a long time, explains Valter Tura, Managing Director of Kässbohrer Italia GmbH. Soon the employees from management, sales, administration and technical customer service will be moving to a modern new facility. More space in all areas

The new plant will be built on a site of around 5,500 square meters in the Bolzano airport locality, of which 23,000 cubic meters will consist of office buildings, workshop, spare parts warehouse and snow groomer garage. The office, warehouse, workshop and training rooms extend over four floors. When planning the new building, great importance was attached to the optimization of all operating areas. At the same time, the structures, communication areas and organizational processes are also being revised in order to remain in the forefront of the Italian market. The construction work is being done by Plattner Bau Competence from Bolzano. Completion is expected by late summer 2020, just in time for the start of the winter season 2020/21.